Microsoft Dynamics 365 – the complete business platform
Simplify and unify your operations, finance, sales and customer service to optimize between all part of your business. The Microsoft Dynamics 365 platform offers the flexibility to run modular applications easily. Traditional independent applications like CRM, ERP, Field Service or Marketing are combined within Dynamics 365. The fact of having an integrated system results in accuracy, completeness and dependability of data. This common data set is the fundament of the future success and needs to be controlled. The Microsoft business platform contains innovative technologies such as artificial intelligence (AI), IoT or big data and brings them to a level they can be used in the day-to-day operation.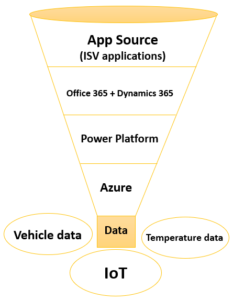 Microsoft Power-Plattform
We all know: "Data is the new oil". But it is not done with collecting data. The big challenge is to create out of data business critical information. The Microsoft Power Platform makes this possible with low key developments. Turn great ideas into impactful solutions.
Power BI: Make informed, confident business decisions by putting data-driven insights into everyone's hands.
Power Apps: Turn ideas into organizational solutions by enabling everyone to build custom apps that solve business challenges.
Power Automate: Boost business productivity to get more done by giving everyone the ability to automate organizational processes.
Power Virtual Agents: Easily build chatbots to engage conversationally with your customers and employees—no coding required.
Common Data Service: Make it easier to bring your data together and quickly create powerful apps using Common Data Service, a compliant and scalable data service and app platform that's integrated into Power Apps.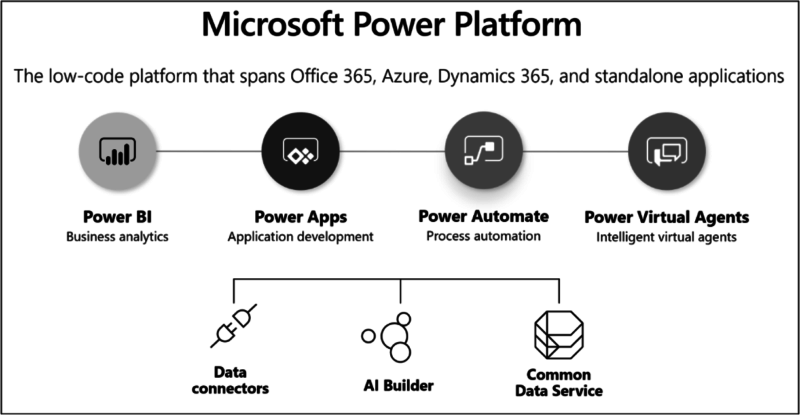 Source: https://docs.microsoft.com/en-us/powerapps/maker/common-data-service/data-platform-intro