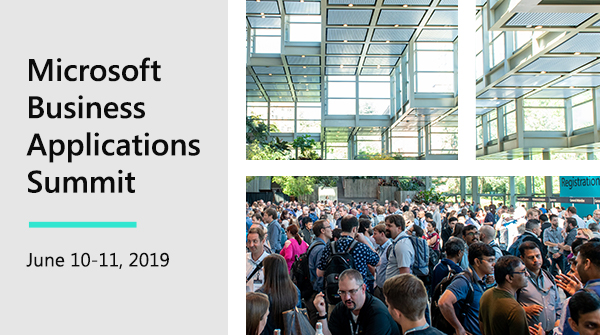 Microsoft organized the second annual Business Applications Summit in Atlanta 10-11. June 2019.
In the event they presented the latest and upcoming features in Dynamics 365 and the Power Platform (Power BI, PowerApps, Flow).Microsoft has been investing heavily in this Business Applications ecosystem in the past few years and the results are impressive. The boundaries between different applications are dissolving. Mobile apps, workflows, web portals, artificial intelligence and machine learning can be combined with easy to use no-code tools, truly enabling the digital transformation for companies who are joining the ecosystem.
We at CAPcargo are also utilizing these opportunities – you might have seen our Driver App, built with PowerApps, in the Transport Logistics fair in Munich in the beginning of June. We are very excited about the app and will publish more information about it in the near future! Meanwhile you can reach out to us if you want to know more.
In Dynamics 365 for Finance and Operations – the platform for the CAP.Transport&Logistics module – Microsoft has now brought most of their customers in the One version world, where every system will stay up to date with the latest innovation, with minimal work associated with the updates. In CAPcargo our responsibility is to verify that our module stays compatible with the Microsoft changes. We are in Microsoft's early adopter program (PEAP) where we can get the updates before they are released, and can provide feedback to Microsoft if we find any issues. To help us in this job, Microsoft has developed new tools for automated testing. This means we can always provide a solution that is compatible with the latest Microsoft updates.
The Business Applications ecosystem would not be possible in the traditional on-premises world. The cloud is not just about letting Microsoft host your systems. It's about having your systems talk to each other seamlessly, enabling business users to have meaningful insights across application boundaries. It's about automating your business processes without expensive IT projects. It's about empowering your organization and your users so that you can provide best value to your customers. We at CAPcargo are proud to be a part of this great ecosystem!
More information about the upcoming features can be found in Dynamics 365 and the Power Platform release:
https://docs.microsoft.com/en-us/dynamics365-release-plan/2019wave2/
https://docs.microsoft.com/en-us/power-platform-release-plan/2019wave2/
The session recordings can be found on the event website:
https://www.microsoft.com/en-us/businessapplicationssummit